Cloud & Hosting
Harness the power of The Cloud
Many organizations are considering "moving to the cloud" as a solution for their mounting IT costs. From simple email hosting to entire computing infrastructure, the cloud promises to reduce capital outlays, provide better uptime and scalability all at a predictable cost.  By being billed monthly (or annually) costs becomes a predictable operating expense.  Even software can essentially be "rented" rather than purchased.  This shift allows you options that you never had before.  Let Nextech be your guide as a certified cloud solutions provider.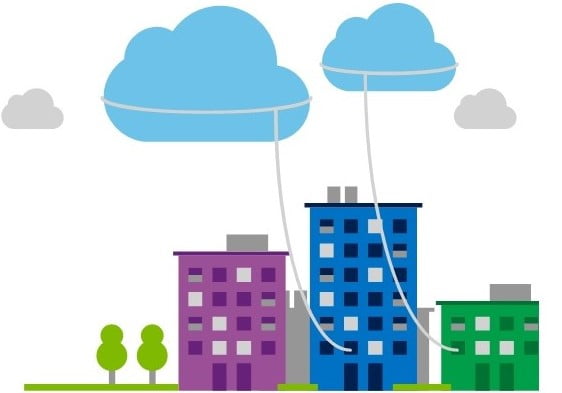 Office 365
Office 365 is a simple and cost-effective way to get a powerful range of cloud Office services plus access to regular new features in desktop Office 2016. Microsoft is continually making useful improvements and companies will appreciate the reliability and the predictable costs.  Office 365 comes in a variety of packages, and as a Microsoft Cloud Solutions Provider, Nextech can be your guide through the process.
Office 365 provides hosted email (Exchange), Sharepoint, Skype for Business (chat), as well as web and desktop versions of the traditional Office applications (Word, Excel, Powerpoint, etc).  As a customer, you can choose any or all of these services and add as you grow.

Windows Azure
In today's cloud market, Windows Azure is considered one of the top platforms. It's  an efficient, secure, flexible, and cost-effective method for data storage and IT infrastructure. How Azure solutions are delivered is where we do our best work as a Microsoft Cloud Solutions Provider. Building the right cloud solution for your business is how you get the most out of the cloud at the best cost, with the least hassle.
Web Site Hosting
Nextech offers affordable, enterprise-class hosting for your company website.  Monitored 24×7, you can rest assured your website is reachable.
Hosted by another more expensive provider?  No problem, we can assist in getting your website moved over to our platform as painlessly as possible.
Backup & Recovery
As companies cope with the growing amount of corporate information being generated every day, they face a daunting truth: without their data, they have no business. That's why it's so critical to have a dependable off-site backup in place to safeguard valuable business information. Over the last decade, cloud backup, recovery and restore options have emerged as secure, cost-effective and reliable solutions.
Nextech provides off-site backup services at extremely competitive prices. We can give you the peace of mind you need to sleep at night, even if something were to happen to your servers or office.